The ozone for medical purposes is used in several local and systemic pathologies of the human body and its routes of application are several. Its biological effects are the increase in glycolysis, the bactericidal, fungicidal and virustatic effect, it has an immunomodulatory action and an analgesic-anti-inflammatory effect.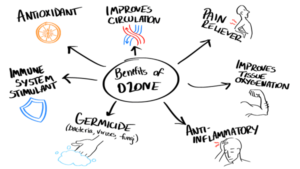 What are the indications?
-Low back pain or lumbosciatica due to contained lumbar disc herniation or extraforaminal disc protrusion with "black" disk on the MRI.
-Soft cervical disc herniation.
-Degenerative stenosis of the vertebral and foraminal canal.
-Degenerative osteoarthritis of the spine.
-Post-surgical painful fibrosis.
What are the contraindications?
-Pregnancy.
-Allergy to ozone.
-Severe hepatic or renal impairment.
-Recent myocardial infarction.
-Alcohol, psychoactive and narcotic abuse.
-Hemorrhagic pathology or severe coagulation disorder, thrombocytopenia.
-Hyperthyroidism or an active thyroid nodule.
-Treatment with anticoagulant or antiplatelet drugs.
-Paralytic sciatica or Horsetail Syndrome.
-Disc break with fragment migrated to the canal.
Routes of application:
Ozone therapy in lumbar disc herniation can be applied in two ways. Paravertebral injection and intradiscal injection.
The intradiscal injection consists of the injection of ozone inside the disc, into the nucleus pulposus, in a certain amount and concentration, with the aim of reducing the disc volume.
It is a non-invasive treatment that is based on the biochemical properties of ozone that offers a good clinical result and has good tolerance.
You might also want to read: Spinal disc herniation
The procedure
The ozone treatment of lumbar disc herniation consists of 3 phases.
1st Phase:
Ozone injections are performed in the bilateral lumbar paravertebral area (usually 4 sessions, one weekly session). You do not need anaesthesia. It is performed in the office.
2nd Phase:
An intradiscal ozone injection is carried out within the pulp nucleus of the herniated intervertebral disc, percutaneously guided by fluoroscopy. It is performed in the operating room under sedation and local anaesthesia and by radiological control. No hospital admission required. After intradiscal treatment, the patient remains for approximately 2 hours. in the recovery room and subsequently discharged.
3rd Phase:
The treatment is complemented with paravertebral injections (6-8 sessions) after intradiscal treatment in the office.
Lumbar discolysis with ozone is useful in pure discogenic pain and also in the treatment of root pain due to herniated disc.
The results of lumbar discolysis with ozone are similar to those obtained with surgery (80% of good and very good results) and with the advantage that it is a treatment that does not require hospital admission, it is performed under sedation and local anaesthesia, it has few contraindications, barely has side effects and the patient can be reintegrated into his usual life 24 hours after treatment.