The spine is a vulnerable area of our body that is constantly subjected to efforts, bad postures, trauma, etc… A vulnerability that is increased by a sedentary lifestyle and causes many discopathies and painful lumbar problems.
Minimally invasive spine surgery is one of the latest advances in medicine since, in addition to reducing tissue damage and its consequences, they allow excellent visualization of neural elements.
What can be treated?
Minimally invasive spinal surgery encompasses a group of surgical techniques used to treat vertebral lesions (tumours, fractures, infections, instability), nerve roots and/or spinal cord. Advances in surgical instruments, high definition HD microscopes and imaging technology have allowed the resolution of various pathologies through small incisions.
At the London Spine Unit, Harley Street Hospital, we treat with these techniques various spinal diseases including herniated discs, narrow canal, synovial cysts, spondylolisthesis, spondylodiscitis, primary tumours, metastases, fractures, spinal instability, adjacent segment disease, etc. All patients are thoroughly studied by a multidisciplinary team and it is determined if they are candidates to be treated by these techniques.
The procedure
Minimally invasive spine surgery involves trying to apply the same principles of open surgery, but making as little aggression as possible to the patient's structures. For this, a small incision of about 15 mm is made, where we place a cannula of that size and inside this cannula, we introduce an optic that allows us to expand and magnify the work field, therefore, it does not force us to make large dissections to access the patient's column.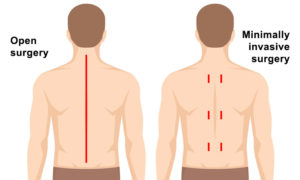 What are the advantages?
-Drastic reduction in pain.
-Accelerated recovery / walking again and daily activity.
-Reduction of Intensive Care Unit and hospital stay.
-Improves postoperative lung function.
-Improvement of the quality of life.
-Reduction of the need for cardiac rehabilitation for hospitalized patients.
-Highly improved aesthetic results.
Minimally invasive surgery versus open surgery
Minimally invasive approaches cause less retraction of anatomical structures, thus reducing intraoperative bleeding, surgical time and postoperative pain compared to conventional surgical techniques. These advantages also allow shorter internment periods and rapid labour reintegration.
You might also want to read: 5 major advances in spinal surgery