Nowadays, there is an advanced option to treat some pathologies that affect the spine, such as a cervical hernia. Cervical disc replacement devices are a great therapeutical tool.
What is a prosthesis?
A prosthesis is an artificial object, which replaces a deficient or absent part of the human body, totally or partially. The prostheses for the spine offer stabilization and fixation in the organ that you want to replace.
There are different types of prostheses for the cervical spine. The surgeon places a prosthesis depending on the origin of the hernia. Therefore, the mobile prosthesis is used in soft hernia in young patients without associated degenerative changes. The rigid prostheses are used when there is medullar compression, or in other specific cases.
Recommendations on the use of prostheses
There are patients with symptomatic degenerative diseases of the spine, which, without surgery, respond favourably to therapeutic methods. There is another group, which due to chronic nature, pain interferes with their ability to work and participate in their daily activities.
The use of the prosthesis is recommended only when the patient has failed traditional treatments.
To ensure the need to subject the patient to surgery, it is important to be sure that this is the possible solution to his condition. For this, the attending physician performs a series of tests, which allow him to ensure the effectiveness of the surgery.
The patient must rely on a reliable high-tech test, such as performing a vertical magnetic resonance imaging, which will allow him to make the right decision. This test has the ability to determine exactly at what level the lesion is to be treated.
Characteristics of the prosthesis
The use of prostheses in the spine is an option that has been carried out for some years, they have been manufactured with various materials such as stainless steel, titanium and plastic.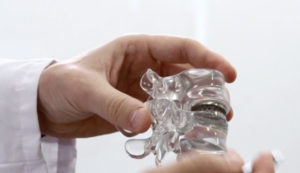 These materials are well accepted by the human body. The purpose of these prostheses is to fix the vertebrae when the replacement has become necessary because it is damaged or collapsed.
The prostheses have been optimized, improving their mechanical resistance characteristics. They emphasize their concentration points of effort, giving optimal volumes and contours to the piece. This is done to give an optimal fixation of the prosthesis to the vertebrae, and thus adapt them to the different bone structures of the spine of the human body.
The prostheses for the spine are designed so that they can withstand the loads carried by the vertebrae, which vary depending on the spine segment where they are located. With this advance, we seek to open new alternatives to improve the development of traditional prostheses.
You might also want to read: How is cervical disc replacement surgery performed?